Set down your glass of champagne and raise your hand if you would like an instant makeover? .....Um, yes please! Well, in case you missed it, this month we are ALL about makeovers!! We're bringing out all the Belles and Whistles!
I am excited to share my lash makeover with all of you, tell you a little about what I learned and provide you with some tips on what to expect if you are considering lashes for yourself.
Like we mentioned in our post, Lash Extensions, the Instant Makeover, lashes are a quick and easy way to add something new to your look, and yet immediately they have a way of making you feel even more beautiful. Whether you are simply tired of your current makeup routine, or if you are a busy woman with limited time in the morning to spend getting ready in front of a mirror, then semi-permanent lashes might be the answer to your prayers.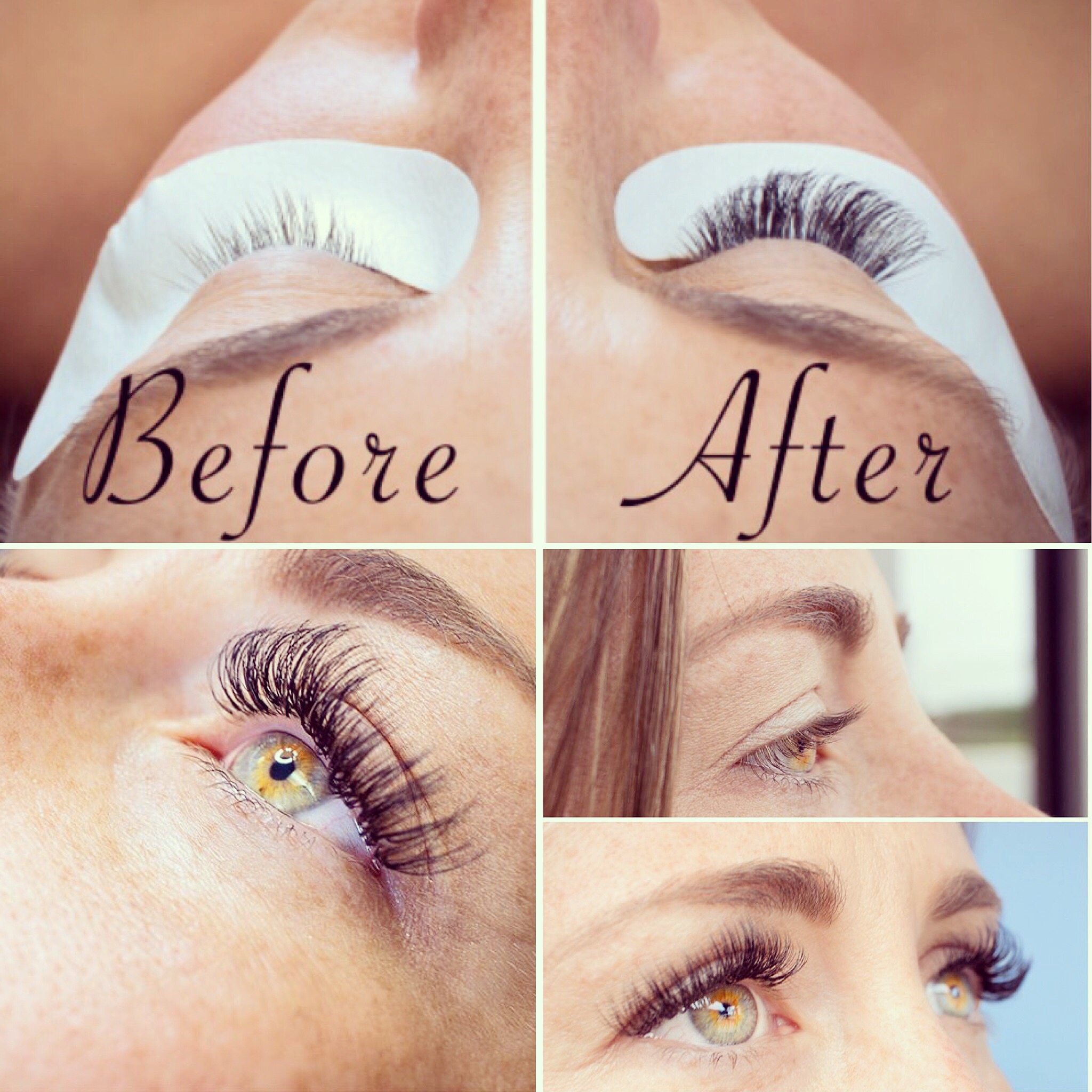 I was definitely one of those women that I just described, maybe even combination of the two. However, for me, in order to feel ready, I had to at least be wearing mascara. Without it I felt naked, which sounds silly, but I have light brown lashes, shown in the middle photo on the right, so without mascara, to me, my face looks sort of washed out and tired.
Going into to the experience, I was excited to have eyes that POP and look ready all throughout the day. Also, to have a quick routine in the morning when getting ready. All I can say is after my first set, I was instantly hooked!
The Experience
The application process is more enjoyable than expected and even quit relaxing. I have pretty sensitive eyes and thought there might be some discomfort with the tape for the lower lashes, but to my surprise I could hardly notice it was there, especially as I lay cozy under the soft plush blanket.

It's important to keep your eyes closed, as the glue could irritate your eyes if you open them while the technician is applying it to your lashes. Made that mistake. Once I quickly learned my lesson, I have to admit, as a busy working mom living out most days on minimal sleep, I did not mind being told to lay down with my eyes closed for next two hours.
Post Emotions
That first look in the mirror is unforgettable because the results are pretty darn amazing! I used the Le' Hybrid (Naturale/Voluminous) set, which means they are silk, or a "hybrid" between synthetic and mink lashes. I loved this option because they allow the lash technician to combine different sizes across the eye lash, and thus creating a very natural yet voluminous look.

The win-win, I have to share is that not only do lashes cut down the time it takes to get ready in the morning, honestly, you can even ask my husband, but they are also very easy to maintain. At fist they felt a little heavy, but after an hour or so, I could hardly even notice that they were there. Prior to leaving, I received a small mascara wand to be able to brush my lashes throughout the day and especially after showers.
Make sure to watch my experience below and as you can see, just like the saying "lashes speak louder than words," the results speak for themselves.
I've had my makeover, are you ready for yours?